4 Text Message Marketing Tips for Golf Clubhouses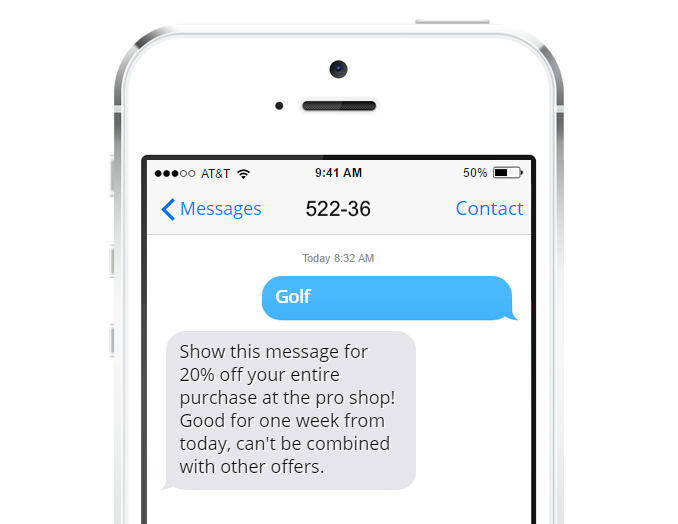 Marketing companies selling text message marketing often times target specific niches to sell their product to. Another niche that will benefit greatly from mobile marketing is golf courses and their clubhouses. Check out these 4 text message marketing tips for golf clubhouses and see how you can use Text ALN's text marketing to increase business.
1. The Pro Shop
Most golf clubhouses will have some kind of a pro shop annexed off the clubhouse somewhere. A pro shop to golfers is what a candy store is to kids. All the latest and greatest merchandise is available for purchase. Golf clubs, equipment, and apparel from your favorite company are all available at the pro shop. One obvious benefit clubhouses would receive from mobile marketing is promoting sales of the pro shop merchandise. The true golf enthusiast is ecstatic to hear of new discounts on golfing apparel. Text ALN can share the power of mobile marketing with employees of the pro shop, showing the ability to put the discounts right into the golfers hand. What golf enthusiast wouldn't like a new shirt, pair of shoes, or even a new set of clubs? Text Message Marketing can entice those golf enthusiasts to visit their local pro shop before, or after, a round on the back nine.
2. Tee Time Anyone?
Advances in technology have made scheduling and reserving tee times nearly effortless. Many golf courses have online tee time reservation applications allowing golfers the ability to reserve their tee time all within a few clicks of a mouse. Now that a golfer has reserved his tee time, its time to think about a reminder to the golfer about his tee time. A text message marketing platform makes it both easy and convenient for both the golfer and the golf clubhouse. Most platforms allow for scheduling text messages to deliver at a future date and time. The clubhouse, upon notification of a reserved tee time, can schedule a text message to be sent out a day before the golfers reserved tee time. The message will deliver on the scheduled date and golfers will be reminded of their tee time. This process is both easy can convenient for both parties.
3. Tournaments and Events
As a golf course, you are probably aware of the importance of marketing for events. These events are usually a great way for drawing in potential customers. With that being said, marketing of events becomes a focus of many businesses looking to gain more customers. The same applies for golf courses. Event and tournaments are used to bring in more potential patrons of the golf course. Sending a text to invite golfers to a tournament or event on the course will draw in not only the golfers themselves, but their friends as well.
4. The 100 Degree Discount
Text ALN is located where the temperature during the summer is above 100 degrees for the majority of the season. With scorching temperatures during the summer, its hard to get golfers to come out and enjoy a game of golf unless its at the crack of dawn or just before sunset. To keep business steady, local golf courses run a "100 degree discount" to golfers when the temperature is 100 degrees or higher. Some discounts get as low as $2 for a round of golf plus cart fees. If business is low and temperatures high, golf clubhouses can use text marketing to send a message notifying golfers of the 100 degree discount, effectively boosting the number of golfers coming to the course throughout the day.
As a text message reseller, hopefully this information has shed some light on golf clubhouses as a niche with great potential for use of mobile marketing. Some areas of the country are heavily populated with golf courses, others not so much. Determine the demand for text marketing in your area and look into golf courses and their clubhouses as a means of selling your product.
TEXT ALN MOBILE SCRATCHER IDEAS FOR Golf Courses
Mobile Scratchers are perfect for Golf Clubs! You can post a flyer when People check in "Win a foursome, text GOLF to 52236 for your chance to win". You train your whole staff to promote it!
The benefits of having people text in for a chance to win is everyone is a winner! Even if they don't win the free dinner you can still give them a % off the pro shop! The best part of the feature is everyone who texts in will now be in your database so your traditional slow days, weeks or months turn into busy days and months because you send every person in your database a special to get them in!
Imagine being able to send a special directly to 10,000 peoples phone, with current statistics 9,700 people will open that text in the first 3 minutes! Unlike social media's algorithms, the text will be delivered right to your target customers eyes! We won't even go into emails open rates as you still have to get by the spam filters!
Test it out here! Click here or text WINDEMO to 52236