One of the quickest and exciting ways to have your customer base opt-in is to hold a Text to Win Campaign! Simply choose a product or service to give away and create a key word to have customers text in to win.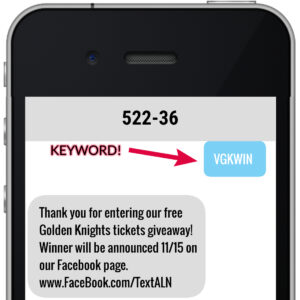 STEP 1 - Pick your Keyword that you would like to use for your campaign.
Select a keyword that best fits your campaign.
If you're giving away free rounds of golf then you might want to use "WINGOLF"

If you're a garage door company giving away a free garage then you might want to use "GARAGE".

If you're a giving away free sports tickets then you might want to use "VGKWIN".

If you're a restaurant giving away a free dinner then you might want to use "DINNER".

If you're a festival giving away a free tickets then you might want to use "TICKETS".
STEP 2 – Promote campaign!
Promote your campaign on your existing marketing campaigns like radio, print, newspaper, store front, at the cash register, table, website, social media, etc.

Win golf for the year, Text "GOLF" to 52236 to enter!

We have found that boosting your post on your social media helps out a ton.

"Free" captures an audience! Every company boosts their post on Facebook and everyone just passes it by, unless its free! Nobody passes by free!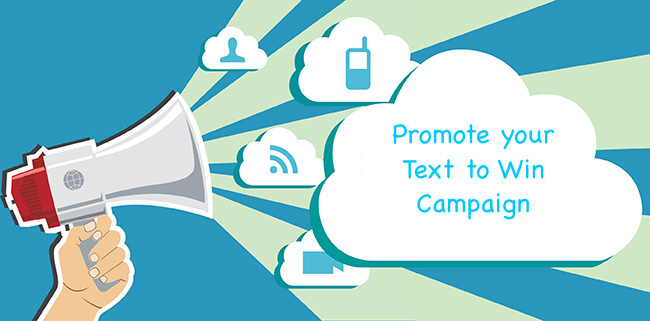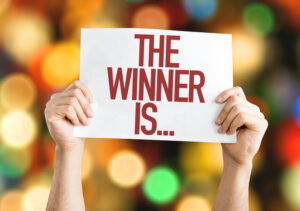 STEP 3 – Pick the winner and send everyone that didn't win a thank you and a discount
Texts to Wins aren't only about the winner its about all the contestants!

Send thank you text messages to all that didn't win.

Send promotions and deals to all that didn't win. Example: Thank you for entering the "Win a free garage door sweepstakes" unfortunately you did not win. Here is a free garage door tune up.
The Benefits of Text ALN Sweepstakes and Contest Marketing:
Buzz: sweepstakes create tremendous word of mouth. The Florida Keys "Win a Florida Keys Vacation and Experience Key West BrewFest" sweepstakes generated a huge reaction in social media and on blogs, sweepstakes sites and elsewhere. In the first 3 hours alone, it received more than 1,000 visitors and nearly 400 "likes" and 600 "shares" on the Florida Keys Facebook fan page.

Increase Your Email and Mobile Database: Sweepstakes and contests usually ask for name, email and address. Mobile sweepstakes take it a step further by gathering the mobile number as well. This increases the email and mobile marketing database tremendously and allows marketers to contact subscribers via text message and email after the sweepstakes is over.
High Return on Investment (ROI): The cost of setting up a mobile sweepstakes is far lower than the cost involved in traditional "paper entry" sweepstakes. The mobile entry component makes it very easy for the participant to enter. No forms to fill or staff needed to gather them. Mobile text-in entry increases the number of participants substantially. And the more participants you have, the lower the cost per entry. The ROI can be calculated by total entries or total qualified leads generated. ROI can be taken a step further by factoring in social media reach and new website visitors.
The Main Elements of a Mobile Sweepstakes
Goal: The objective of the sweepstakes needs to be clarified and kept top of mind in all activities. If it's lead generation, the participants should be pre-qualified upon entry to facilitate the sales follow-up efforts. If it's for branding, then promotion and related marketing and social networks should be leveraged as much as possible. If market research is a priority, then a survey can be included as part of the entry process. A marketer should plan beforehand what he will do with the data once it's collected and how that data will turn into actionable analysis and a marketing asset.
Advertising: The beauty of a text-to-win promotion is that it works in every media channel, online and off. Your customers can enter from anywhere they are. They can be in front of their computer, mobile phone or in your store. You can place your a call-to-action (Text SCRATCHER to 52236 to enter…) in printed materials or any digital screen because all the participants has to do is send a text message to enter. We like to say, wherever you print your logo, be it, on your website, flyers, menus, Facebook or Twitter, you can advertise you text-to-win sweeps call to action.
Privacy: A lot of personally identifiable data is collected upon entry, especially when participants enter from their mobile phones. Marketers need to have and adhere to a solid privacy policy and a strong data management platform to protect the participant's data. And always offer a way to opt-out and completely eliminate that participant's personal information from the database.
Prize: Bigger isn't always better. It's crucial to pick the right prize– a prize that appeals to the target audience your product or service is trying to reach. Are you a college targeting high school students? A cruise trip for two to Alaska may not be the best option for high school students, but a new iPad mini will be.
Legal "Official Rules": Because of their potential for abuse, sweepstakes are heavily regulated. In the U.S. all states have laws covering sweepstakes, sometimes resulting in exceptions, depending on where the entrant lives. Sweepstakes and contests are also regulated by U.S. Federal Trade Commission on a national level. Age requirements, date of birth, state of residency and the monetary value of the prize all affect how sweepstakes' Official Rules are assembled. The Sweepstakes Official Rules should be reviewed by an attorney specializing in promotion marketing laws. We can help.
Mobile Partner: Whether you are an ad agency or a small business, picking the right mobile sweepstakes partner is key. The mobile partner should be able to provide you with the services of executing and running a mobile sweepstakes. The mobile partner should also have the technical know-how to put together a text-to-win program and create mobile-optimized entry pages to capture participant's information. A mobile sweepstakes partner should have the technology platform to provide a short code (Text SCRATCHER to 52236 to enter, for example), gather a database of mobile entries and provide reports as to the status of the program.  A mobile sweepstakes partner will recommend Official Rules. And when it's all over, a mobile partner should provide post-sweepstakes mobile engagement ideas to continue to drive the goals of the campaign and leverage the database of leads.
Fulfillment: A winner must be picked randomly and the prize awarded with the time limits that were set in the Official Rules. The winner must be contacted and a Declaration of Compliance, Liability and Publicity Release should be received before any prize is delivered. Based on the value of the winnings, a 1099 tax form needs to be sent to the winner as well. Fulfillment it's a detailed and necessary process to avoid any future legal complications.
If you want to reach your mobile consumer, a text-to-win sweepstakes is absolutely one of the best way to do so. It allows the marketer to gather a detailed, permission-based profile of your mobile customer. Above all, it can create a fun, buzz-worthy event to energize current customers and reach new ones.