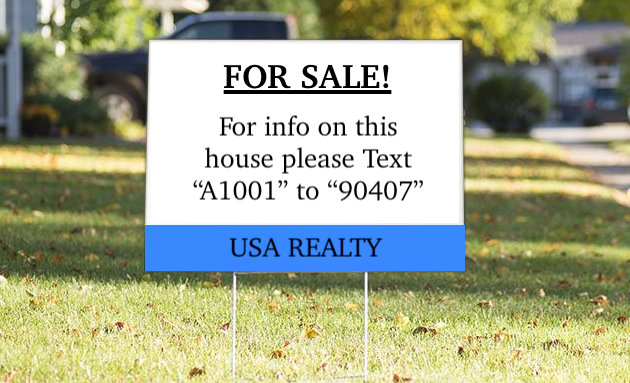 The housing market has had its challenges over the past few years. Real estate agents must be provided every means possible to market their property listings effectively and follow up on their leads efficiently and in a timely manner. Text message marketing, or mobile marketing, gives real estate agents superior lead follow-up and another tool for effectively marketing their property listings to consumers.
How Text ALN's SMS Marketing Works with Real Estate
Alexander Graham Bell once said, "Before anything else, preparation is the key to success." He speaks truth, proper preparation will help your mobile marketing efforts to yield sales. Describing the process of how mobile marketing works with real estate will assist in narrowing down what the necessary preparation requires to create a successful marketing effort.
Suppose, for example, some potential buyers find an advertised house they are interested in. After glancing at the house, they notice a sign rider saying "Text 'A1001' to '90407' to see the specs for this house!" The potential buyers pick up their mobile phone and text 'A1001' to 90407. Immediately, they receive a text message back saying:
3 br 2 bath
2000 sqft
2 car garage
big backyard, close to schools, all stainless appliances.
See photos here: <your url here>
There you have it! Now the potential buyer has the housing information in front of them, and a URL linking them to your webpage where they can obtain more information. It is as simple as that. Later in the article, the instant lead generation for real estate agents after the potential buyer texts in will be discussed. Now that there is a basic framework for how mobile marketing works for real estate, let's explore the preparation of your mobile marketing campaign in greater detail.
1. Property Codes
When you initially sign up with a text marketing company, you will select keywords for each of your property listings. "Property codes" is a better fitting description when you are talking about real estate as each property code will represent a listing you have on the market. Subscribers will text this property code to receive the listing information. When setting up these property codes, it is best to make them generic (such as 'A1001′ or 'RM02′). This allows you the property codes to be recycled and reused when your listings sell.
2. Sign Riders
Develop an effective, yet simple, sign rider that will entice subscribers to text in your property code. Present the property code, the phone number, and the a brief description of what they will get when they text in. The example used above was "text 'A1001' to '52236' to receive the specs on this home!" This is a simple, yet direct call to action inviting the potential buyer to receive information about the listing by texting in.
3. Lead Generation
This is where using mobile marketing for real estate really shines. Once a potential buyer texts your property code, instantly their mobile phone number is captured and placed into your contacts. Most text message marketing platforms will have the ability to forward new subscriber information to an email address or even to a mobile phone. This proves invaluable to a real estate agent by generating instant leads which the agent can follow up on in a very timely manner.
Once you have made the necessary preparation, it is a matter of maintaining and updating the housing information within your text campaign and following up on the generated leads in a timely manner. Mobile marketing is a powerful tool for real estate agents and will continue to effectively and efficiently provide leads which will generate more sales.